Moderator: Bob Fisher
Forum MODERATOR Fishing W.A. & Australia
Posts: 1055
Joined: Fri Dec 08, 2006 12:42 pm
Location: Just outta BrisVegas
My v-punt prior to the awesome "One More"..
On Corroboree billabong circa 2003...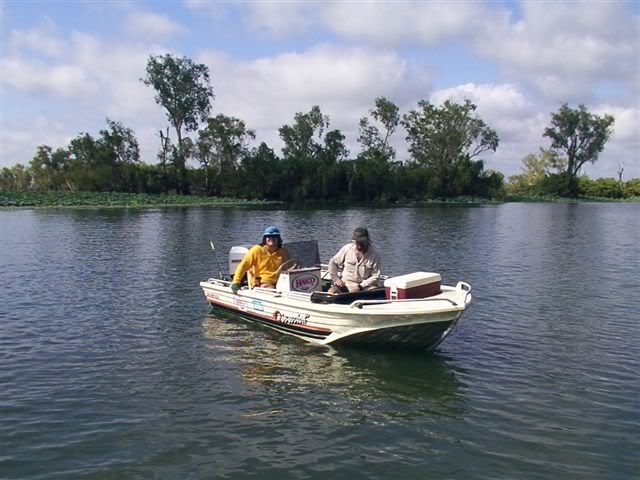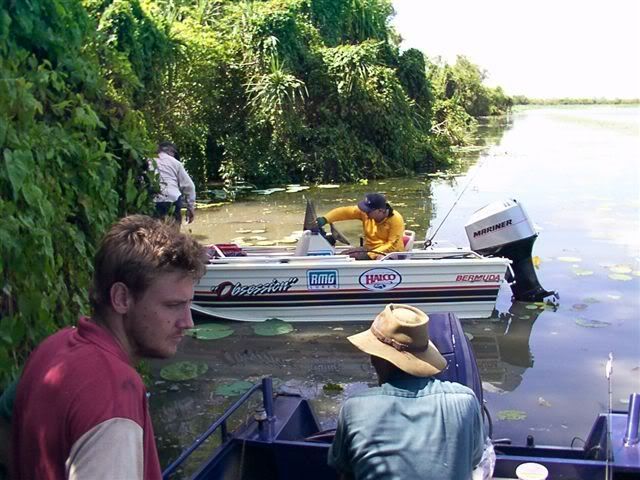 Did 30 odd knots!
---
Administrator
Posts: 1141
Joined: Mon Dec 22, 2003 1:31 am
Location: WorldWide
Contact:
BARRA'S OBSESSION
ummm... somehow I missed this one mate. Just found it!
Awesome little fishing boat, awesome scenery!!!
That shoreline!!!
Capt. Aussie Bob Fisher
SportfishWorld, LLC.
---
Forum MODERATOR Fishing W.A. & Australia
Posts: 1055
Joined: Fri Dec 08, 2006 12:42 pm
Location: Just outta BrisVegas
It was a screamer!
Coroborree Billabong again circa 2003 I think...

It skated around corners, had 1/8 guage trim before it started porpoising, but it flew.
4.25 m vpunt with a 40 Mariner/ Mercury PT&T....

That jewie pic in Hedland harbour was in this boat.
---